What do I need for my Mito350 project?
Off course you need some technical experience, but the build is quite straight forward. The engine brackets need to be welded to the frame, an installation manual is included in the kit. You need a watercooled RD350, or RD 250 engine, ignition and carburetors. You need to modify the cooling circuit, wiring loom and a longer chain and clutch cable.

The engine mounts will fit:
all Cagiva Mito models:
Cagiva Mito1,
Cagiva Mito 2,
Cagiva Mito evo
Cagiva Mito SP525.

Other Cagiva Models
Cagiva Planet 125
Cagiva Raptor 125.

The engines that can be used are:
Yamaha RD350 YPVS 31k
Yamaha RD350 LC 4L0
Yamaha RD250 LC
Yamaha Banshee 350

Also suitable with Big bore kits as Cheeta and Athena
421cc,
485cc
521cc
etc.

You can buy the Engine Mounts and Exhausts in the web shop.
How do I modify the wiring?
The easiest way is to use the Mito wiring and replace all engine related parts such as CDI, rectifier and power valve controller of the Mito with the RD parts.
What about the suspension?
The Mito will be heavier and a lot faster, the standard brakes are better than the RD brakes but it is recommended to replace the Mito forks with a double disk set up. Most customers use a Ducati front end to keep the same look. Or use a front end from any other 600cc supersport which has a similar length and offset.
What gearing should I use?
It depends on the preferred character of your bike. Use the website www.gearingcommander.com to sort out your gearing.
Do I need to modify the fairing?
You can widen the standard fairing at the bottom by adding strips or brackets, or you can make cut-outs for clutch and ignition cover.
Is my bike still legal for road use?
No it is not in most cases. You need to take action to get your bike modification legally registered. Please check your local laws, regulations and insurance.
Why is the kit not straight bolt on?
The kit requires some modification to the Mito frame and some welding. Off course we started the development by eliminating the welding, but center of gravity, ground clearance, robustness, weight and front wheel clearance requirements resulted in this design. Success guaranteed!
Will the mito350 pipes work on every engine?
Performance is tested on a Dynojet on different engines, from stock to 392cc tuned. Practically every engine is different, but these pipes will not disappoint you. Made of 0,8mm sheet metal the weight is much lower than other aftermarket pipes!
When do I receive my order?
Exhaust pipes will be made after order and will take about 6 weeks, as I build them in my free evenings. The other products will need some preparations and usually will be shipped within one week. All orders will be shipped from The Netherlands.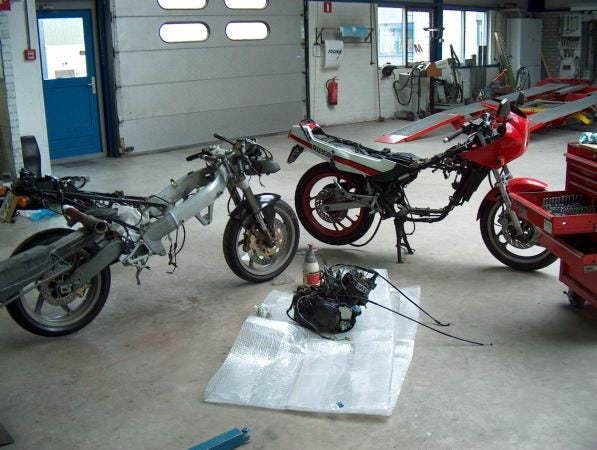 More Questions?
Ask me or the enthusiasts who build the most spectacular Mito350 projects!
100+ Horsepower, single sided rear suspension, Moto3 fairings, reversed cylinders, we have all seen it!